Wedding invitation wording can be tricky, so matter how gorgeous your invitations are, it is essential that they are fully functional too! All imperative information such as, who's getting married, hosting, when, where, time, place and how to RSVP should be included, but now there are details such as your wedding website, map cards and hotel accommodations to also decide on. Not to worry, we are here to help and over the next few weeks we will be sorting through the ins and outs of wedding invitations!   First things first, here are a few standard practices to remember when hosting a formal wedding:
Punctuation is never used, except for "Mr." and "Mrs." or when phrases requiring separation occur in the same line.
Half hours are written as "half after five o'clock" not "five-thirty" or as "half past five."
Numbers in the date are spelled out, as in "the twenty-third day of April,
Street addresses are written in numerals: "1234 Pennsylvania Avenue."
When the wedding ceremony is in a house of worship, you use the traditional spelling of  "honour" (using a "u") for honor and "Favour" in place of favor.
Traditional
Mr. and Mrs. James Smith
request the honor of your presence
at the marriage of their daughter
Jessica Ashley
to
Michael Joseph
son of
Mr. and Mrs. John Wilson
Saturday, the eighth of March
two thousand seventeen
at four o'clock in the afternoon
Historic Whitehall Manor
Bluemont, Virginia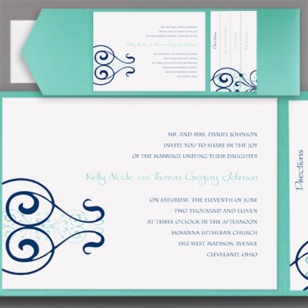 ———————————————
Religious
Mr. and Mrs. Jones
request the honour of your presence at the Nuptial Mass at which their daughter
Jessica Marie
and Mr. Justin McGregor
will be united in the Sacrament of Holy Matrimony
on the fourteenth of April
two thousand seventeen
at five o'clock in the evening
St. Patrick's Cathedral
619 10th Street Northwest
Washington, DC 20001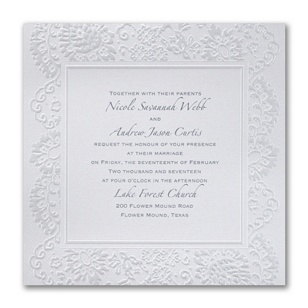 ———————————————
 Common practices found when hosting an informal wedding include using customized wording such as:
The pleasure of your company is requested at the marriage of…
Please join us as we celebrate the marriage of…
Because you have believed in them, Celebrated with them, Loved and encouraged them…
Your love and friendship have helped us become who we are.  Together with our parents,we invite you to share our joy and support our love, as we exchange vows and celebrate our marriage.
Informal
We are thrilled to invite you to partake
in the union of our daughter
Stephanie Michelle
to
Erik Christopher
on Saturday, June 17th
two thousand seventeen
at 2 o'clock in the afternoon
Buchanan Hall
8549 John S Mosby Highway
Upperville, Virginia